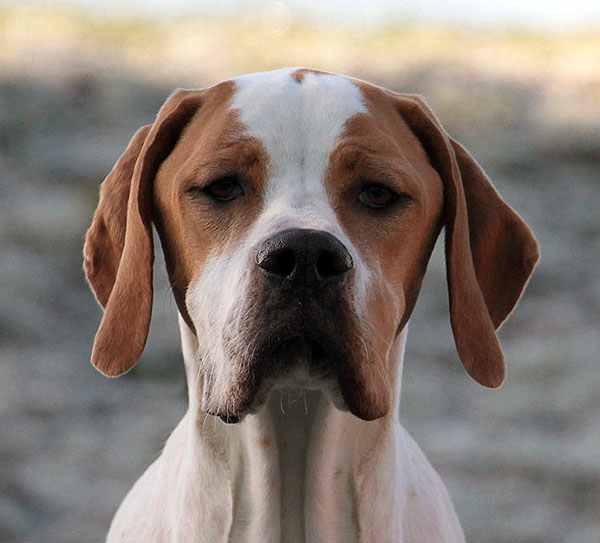 International/Dutch/Lux Sh Ch
Sunny Side Up at Ledgands
BW'14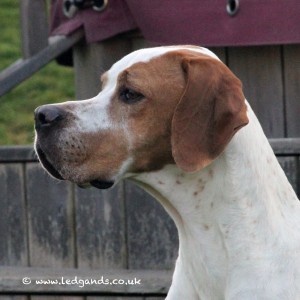 Vespa arrived at Ledgands on 14th May 2011…and yes, she is China's granddaughter and Nemo's daughter! At one time we had all three generations in the same house – OMG, what did we let ourselves in for? Fiona, Kim, mummy Pandora and auntie Lottie did a fantastic job of raising her to be a healthy handful ! Her bothers Cooper, Sandy and Oakley all have fab homes too.
By far, the easiest Pointer we had the privilege of. Vespa wanted nothing more than to be cuddled and to be given lots of attention. Such a loving Pointer!
Vespa had no fear – she soon let China, Nemo and Summer know that she is boss. We often found Vespa on top of one of the others and usually has them pinned to the floor having lots of fun with them. If they didn't want to play, she had a good bark to encourage them to get out of their lazy beds and play.
Vespa loved foraging in the hedges and often came running out with treasure – usually some rotting grass or some branch she had stolen from one of the hawthorns. Vespa needed no moped – she made her own speed! She was always eating something! Vespa had a habit of eating dandelions – she was like a lawn mower going around the field to hunt them all down!
She had good success in the show ring (see list below). Vespa was laid to rest on 13th March 2023.
Vespa's wins and achievements:
31st August '14: BOB, CAC, CACIB & Benelux Winner at Luxembourg International Champ Show, Lux
30th May '14: 3rd Champion Stakes at Southern Counties Champ Show – judge Ben Reynold-Frost
3rd November '13: Grp 3, CAC, CACIB & BOB at Bleiswijk International Champ Show, Holland
29th September '13: CAC, CACIB & BOB at Maastricht International Champ Show, Holland
28th September '13: Grp 2, CAC, CACIB & BOB at Maastricht International Champ Show, Holland
27th July '13: RCAC, RCACIB & 1st Open Bitch at Golden Dog Trophy Int Champ Show, Liege, Belgium
15th May '13: CAC & CACIB at Budapest Grand Prix, Hungary
2nd February '13: Grp 4, CAC, CACIB & BOB at Eindhoven International Champ Show, Holland
7th October '12: RBCC & 1st Yearling Bitch at The Pointer Club of Scotland Champ show
1st July '12: CAC, CACIB, RBOB & 1st Junior Bitch at Genk Championship show Belgium
18th May '12: 1st Junior & Graduate Bitch at SKC Championship Show
11th May '12: RBCC & Best Junior in Breed at German National, Dortmund, Germany
8th January '12: Best Puppy In Breed at Ashford & Faversham Open Show
6th January '12: Best Puppy Bitch at Boston Champ Show
18th December '11: Best of Breed & Best Puppy In Breed at Guildford & District Open Show
27th November '11: Best Puppy In Show at Southern Pointer Club Open Show
23rd October '11: Best Puppy In Breed at Mid-Herts Gundog Society Open Show, Cambridgeshire
16th October '11: Best Puppy In Breed at Woolwich, Bexley & District Open Show, Maidstone
12th October '11: 3rd Minor Puppy Bitch at Gundog Society of Wales
2nd October '11: 2nd Minor Puppy Bitch at Pointer Club of Scotland Champ show
30th September '11: 3rd Minor Puppy Bitch at Driffield Champ Show
International Show Champion

Group 2, 3 & 4 in Holland

RCC – Judge: Fiona Coward-Scholes (Rossgilde)

RCC – Judge: Patsy Hollings (Gunalt)
Vespa's photos:
(Click to view larger version of photos and to scroll through photos)
All photos copyright © www.ledgands.co.uk | All rights reserved